Archive for category Watch Dogs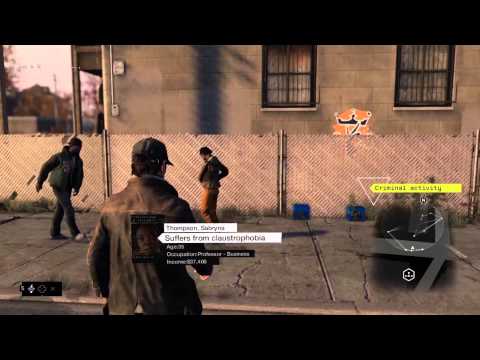 Enter your date of birth to access this video.
Watch 14 minutes of Watch Dogs open world gameplay. Get a sneak peak of seamless multiplayer in action as Aiden becomes the target and takes revenge on an infiltrating hacker.
In Watch Dogs, players will be immersed in a living, breathing and fully connected recreation of Chicago. Players will assume the role of Aiden Pearce, a new type of vigilante who, with the help of his smartphone, will use his ability to hack into Chicago's central operating system (ctOS) and control almost every element of the city. Aiden will be able to tap into the city's omnipresent security cameras, download personal information to locate a target, control systems such as traffic lights or public transportation to stop a chase, and more. The city of Chicago is now the ultimate weapon.
Today, following the announcement of the PlayStation 4, Ubisoft revealed that its highly anticipated open world action-adventure game, Watch_Dogs, will be available for the launch of the new system. It also showed the following game-play video:
An except of the official press release is below.
One of the few things that has stuck out so far this E3 was a new title in development under Ubisoft. The game is called "Watch Dogs," and it honestly looks pretty interesting. I still don't understand what the plot it, besides that everything is run by a Central Operating System (traffic lights, cell phones, etc.) and you seem to be able to control members of a group that can hack into the system and control aspects of it. Check out the gameplay trailer after the jump for some fresh gameplay footage!
UPDATE:
Right after I posted this, Ubisoft released a press release that gives some more details. Here's an excerpt from said release:
"In Watch Dogs, players enter the dangerous world of Aiden Pearce, a new class of antihero whose ability to hack into any connected system could be his most powerful weapon. Whether it's triggering a 30-car pileup by manipulating traffic-lights to trap an enemy during a downtown shootout or tapping into the city's omnipresent security cameras to access anyone's personal information, Pearce is capable of coercing and controlling almost every element of the world around him."
Watch Dogs goes beyond the limits of today's open-world games by giving players the ability to control an entire city," said Jonathan Morin, creative director, Ubisoft. "In Watch Dogs, anything connected to the city's Central Operating System becomes a weapon. By pushing the boundaries, we can provide players with action and access to information on a scale that's never been seen in a video game before.
You can see the IP launch trailer here.