14 Comments
7-11 Slurpee LittleBigPlanet 2 and Killzone 3 Promotion is Live!!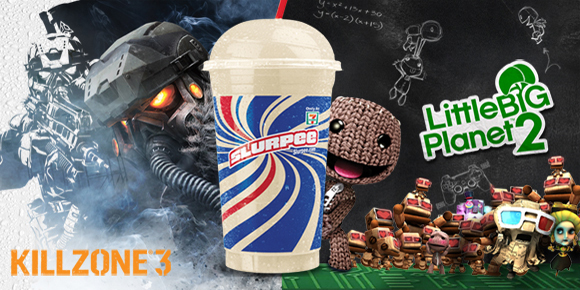 Last time it was Subway, and now it's 7-11 Slurpees that we will all want. Sony has started a Slurpee promotion for LittleBigPlanet 2 and Killzone 3, offering four different limited edition Sackboy or Helghast Slurpee cups, as well as Slurpee Rewards for points. Each slurpee cup you buy will have a code on it to redeem for Slurpee Reward points, that in turn can be redeemed for prizes on the web site. There will be a KZ3 map pack, a LBP2 sticker pack, and a Virtual Slurpee Machine for PS Home. So far the only PS3 related rewards are 4 different LBP2 ringtones for 2 points each, and this KZ3 PC Wallpaper for 2 points.



Stay tuned and watch the quick news for updates as more rewards are released.
Sources: Playstation.com and Slurpee.com