2 Comments
[PS3 Review] The Walking Dead Season 2: A House Divided
The sequel to 2012's Game of the Year continues several months after the events seen in Season One of The Walking Dead, and Clementine is searching for safety. But what can an ordinary child do to stay alive when the living can be just as bad – and sometimes worse – than the dead?

As Clementine, you will encounter tragedy, struggle with survival and discover the harsh reality of things to come in a game series where every decision matters.

– Decisions you made in Season One and in 400 Days will affect your story in Season Two
– Play as Clementine, an orphaned girl forced to grow up fast by the world around her
– Meet new survivors, explore new locations and make gruesome choices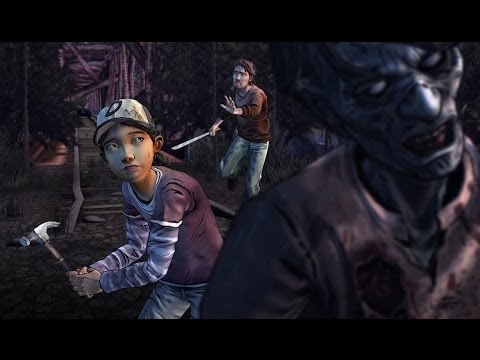 Enter your date of birth to access this video.
Clementine carries on with her new journey after the events from Episode 1, and things just keep getting worse and worse with every step she takes. It's a bleak world, and people are more and more jaded as days goes by.
Things are a bit more hectic at the start since as you can remember, All That Remains ended on a great cliffhanger where the first hard choice was presented to players. Depending on the decision you made, the start, middle and end of this episode will feature a different set of interactions and between all surviving characters.
It's hard to review the second episode of The Walking Dead Season 2 without diving straight into Spoiler-heavy territory, but let's give it a try. It's safe to say that during Episode 2, characters die, new characters are introduced, and we see some familiar faces from Season 1 and 400 Days enter the story.
Things first take a dive into "this is pretty bad and we might die." Then everything goes up to "this might actually work!" before spiraling down into "remember when I said this was pretty bad? Forget about it. THIS is pretty bad" to never return. There are no marked "this character or this character… decide!" moments in Episode 2, but a lot goes on for setting up what will surely be a stressful Episode 3 when Clementine is faced with deciding what is good and what is bad, and how a little bad might be needed for the greater good of the group.
The Walking Dead Season 2: A House Divided is a great episode that finally starts to show us how the decisions made in 400 Days will start to affect what we experience in Season 2. The tense atmosphere, action sections, and the plot twists will keep you glued and playing until the end… which makes the wait for Episode 3 feel even longer.
[review score="90″ pros="More Walking Dead.
Clementine is still as strong as ever." cons="After waiting months for Episode 2, we now wait for Episode 3."]
Disclaimer
This review is based on a PS3 copy of The Walking Dead Season 2: A House Divided provided by Telltale Games