One Comment
[PS3 Review] Game of Thrones Episode 2: The Lost Lords
The second episode of the Game of Thrones Games, The Lost Lords, follows House Forrester in their struggle to survive. The review for the first episode can be read here.
Episode two of a six part episodic game series set in the world of HBO's groundbreaking TV show.

Based on the award-winning HBO television drama series, Game of Thrones: A Telltale Games Series tells the story of House Forrester. Caught up in the events of The War of the Five Kings, they are placed in a precarious position where members of the household must do everything they can to prevent the house from meeting its doom.

Some cast members of the television series will reprise their roles in the game. While players will control five members of House Forrester in their story, the series will have them interacting with fan favorite characters throughout the season, including Tyrion Lannister performed by Peter Dinklage, Cersei Lannister performed by Lena Headey, Margaery Tyrell performed by Natalie Dormer, and Ramsay Snow performed by Iwan Rheon. Additional cast members will appear in later episodes.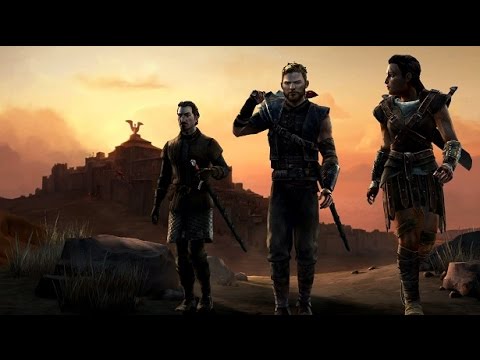 Enter your date of birth to access this video.
Game of Thrones – Episode 2 Trailer
(Be warned that given the nature of the game, this review might contain spoilers.)
This second episode takes place immediately after the events of the first episode. Older brother Rodrik Forrester returns to his family and will take over Lordship of the House. He is to be married to a member of another house and depending on how your interview with the girl goes you can either secure the wedding ceremony or fail miserably and ward her off. On her end, Mira, who resides in King's Landing, has to make tough choices in order to either secure a personal wish of hers or be faithful to Lady Margaery.
For this episode (at least on the PS3), it feels as if the engine was having a harder time to render everything on screen since there were some cases of slowdowns that made a few quick-time events harder than they should be. There weren't too many events of the sort, and most of the episode lets you watch the story unfold a you select your answers and specific interactions, but I did want to mention it.
It took me around two and a half hours to get through the episode, and I can't wait for the next one. Seeing the the series unfold and how each episode changes depending the choices I have made is part of what makes the latest episodic releases from Telltale Games so great.
[review pros="Great story
Your choices seem to have great weight in how the story unfolds" cons="Some slowdown on PS3
Waiting for Episode 3″ score=85]
—————————————
Season Pass cost: $24.99
PSN Game size: 715MB
Interested in Game of Thrones? If so, why not support us and buy it from our Amazon Store?

Disclaimer

This review is based on a digital copy provided by Telltale Games.