No Comments
[PS3 Review] Tales from the Borderlands Episode 2: Atlas Mugged
Atlas Mugged is the second episode in Tales from the Borderlands, an interactive story set in the Borderlands universe. As was the case with the first episode, this game follows Rhys and Fiona, and players will also get to meet a new character that is introduced early in this episode. Due to the nature of the game, this review contains some spoilers about the story.
Episode two of a five part episodic game series set in the award-winning universe created by Gearbox Software.

Like all good tales, there's more than one side to a story. Especially one about a Vault key, the Hyperion Corporation, bandits, loot, gangsters, Vault Hunters, secret Atlas tech, explosions, getaways, extortion, betrayal, and mayhem.

Set after the events seen in Borderlands 2, Tales from the Borderlands is about Rhys, a Hyperion company man looking to become the next Handsome Jack, and it's also about Fiona, a Pandoran con artist out to score the biggest of all swindles.

Lured into danger by a Vault key and all it promises, the unlikely duo are thrown together with a common goal and a huge amount of mistrust. Who is telling the truth, and why is it important?

That's up to you to decide.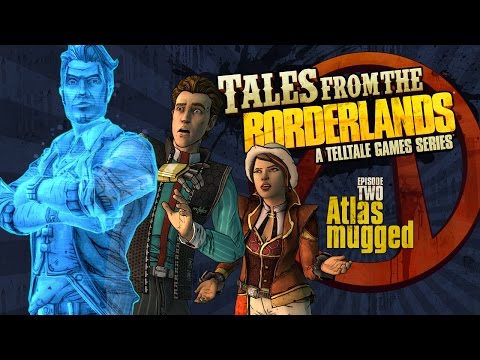 Enter your date of birth to access this video.
Tales from the Borderlands – Launch Trailer
This second episode starts right where the first one ended, in the secret Atlas bunker players found. While investigating the bunker, they discover that a vault key could be related to the Gortys Project.
We are then introduced to Handsome Jack, Rhys new "frenemy," to take the words said in the game. This new character has been dead for a while (following the events of a previous game in the franchise), and appears in the form of a hologram in front of Rhys. After a pretty funny conversation between the two, they both realize that only Rhys can see and interact with him, which, as you can guess, will lead to funny exchanges between the two.
After that sequence (and a relatively gory moment involving Fiona), the team composed of Rhys, Vaughn, Fiona and Sasha take off and ride through a desert in their caravan to reach the location of the Gortys Project (Hallow Point), when they suddenly gets attacked by Hyperion AND a pretty impressive Pandoran monster. After escaping this situation, Rhys and Vaughn are separated from Fiona and her sister, only to end up pursued by his former Hyperion boss! As things start to look gloom for both of them, a neat new gameplay feature is introduced which now allows Rhys to access (and mess around with) some objects by using his enhanced Echo Eye.
On her end, Fiona and her sister meet up with a new character named Scooter, a mechanic that helps them to repair their damaged caravan from the previous attack. Since all of Pandora's bounty hunters are after her, they soon get attacked by a mysterious woman called Athena, and players will need to escape her by succeeding in a few quick time events.
I liked playing through this episode, and as was the case after I finished Episode 1, I can't wait to see how the story will unfold in the next episode!
[review pros="Story is as fun as the first episode was
Interesting new characters
New gameplay element (Echo Eye upgrade)" cons="Surprisingly gory scene at the beginning of the episode?" score=90]
—————————————
Cost: $4.99 (Episode), $19.99 (Season – 5 episodes)
PSN Game size: 1.4GB
Interested in Tales from the Borderlands? If so, why not support us and buy it from our Amazon Store?

Disclaimer

This review is based on a digital copy provided by Telltale Games.