No Comments
[PS3 Episode Review] Game of Thrones Episode 3: The Sword in the Darkness
The third episode of the Game of Thrones episodic series, titled The Sword in the Darkness, follows the ongoing struggle of House Forrester to survive. If you want context on the earlier episodes, check the first and second episode reviews before checking this one!
Episode three of a six part episodic game series set in the world of HBO's groundbreaking TV show.

Based on the award-winning HBO television drama series, Game of Thrones: A Telltale Games Series tells the story of House Forrester. Caught up in the events of The War of the Five Kings, they are placed in a precarious position where members of the household must do everything they can to prevent the house from meeting its doom.

Some cast members of the television series will reprise their roles in the game. While players will control five members of House Forrester in their story, the series will have them interacting with fan favorite characters throughout the season, including Tyrion Lannister performed by Peter Dinklage, Cersei Lannister performed by Lena Headey, Margaery Tyrell performed by Natalie Dormer, and Ramsay Snow performed by Iwan Rheon. Additional cast members will appear in later episodes.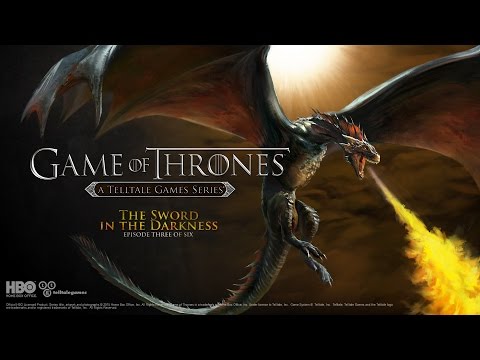 Enter your date of birth to access this video.
Game of Thrones – Episode 3 Trailer
(Be warned that given the nature of the game, this review might contain spoilers.)
The Sword in the Darkness begins with Asher (the exiled son) trying to hide from a group of enemies. Of course, things don't go as planned and when they manage to find a hiding place they are greeted by a very hostile creature and the following struggle will lead to a painful decision. On the other hand, Mira, over in King's Landing, will have to respond to her acts from previous episodes to Lady Margaery, and she will eventually assist with King Geoffrey's wedding.
Gared is still at the wall and begins his journey by becoming a brother to the army in the wall – as a ranger – by reciting his vows, but a visit at this remote location will test his commitment to being a brother. Finally, the fourth son of the Whitehills comes to House Forrester to take control of the place… or so he thinks. What will Rodrik do?
I liked this episode a lot because it managed to make me feel uneasy more than once with the dialog options. We can see that the story is progressing and that earlier decisions are coming back to bite us in the ass, once again showing how Telltale Games is a very efficient story teller.
I think that this episode was a bit shorter than the previous ones as it took me a little over two hours to get through. As is to be expected, this episode ends with another cliffhanger that has me counting down the days until the next episode is here!
[review pros="Great story
Feeling uneasy with earlier choices coming back at you" cons="Still some slowdown on PS3
Season is already past the halfway point…" score=88]
—————————————
Season Pass cost: $24.99
PSN Game size: 830MB
Interested in Game of Thrones? If so, why not support us and buy it from our Amazon Store?

Disclaimer

This review is based on a digital copy provided by Telltale Games.