No Comments
[PS3 Review] Tales from the Borderlands Episode 3: Catch a Ride
Catch a Ride is the third episode in Tales from the Borderlands, an interactive story set in the Borderlands universe. This episode continues the story of Rhys and Fiona along with the friends (and enemies) they made since the beginning of the first episode. Like with other Telltale episodic reviews, this review contains some spoilers about the story. Are you ready?
After a dizzying escape from a very-near-almost-certain-death scenario (involving statuesque buttocks), Rhys and Fiona find themselves looking for another piece of the puzzle that will lead them to the untold riches of Vault key ownership.

Lost in the mysterious jungle of an Atlas terraforming facility, Fiona finds help from an unexpected mentor, Rhys continues to share brain-space with the disembodied mind of a dead dictator, and love is in the air.

Pursued by the ruthless criminal 'Queenpin' Vallory, and with very little help from Vaughn's accountancy skills (or stellar abs), getting anywhere near the Vault will be entirely up to you.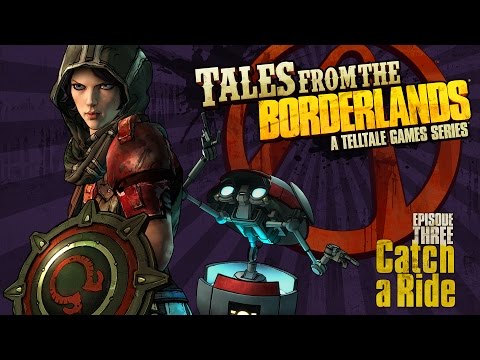 Enter your date of birth to access this video.
Tales from the Borderlands – Episode 3 Trailer
This third episode starts with a great action sequence that sets the mood for the rest of the episode. Soon after this you meet with a new character: Vallory, the Queenpin. She doesn't look intimidating at first but try to be clever, and she'll show you what she's made of.
We also finally see what the Gorthys project was all about, and I REALLY wasn't expecting what it turned out to be. The Gorthys project will help you reach the Vault of the Traveler when you recover its missing pieces, so you must, therefore, start to search for the rest of the pieces.
We then visit a dome hosting a weird (and pretty funny) scientist, and the group splits to recover the first missing piece. Rhys and Sasha go on their own to clear the security in the dome while Fiona and Athena go into the danger zone to recover the piece in question.
Of course, as soon as the piece is recovered, things go wrong and you'll have to fight your way through a few quick time events, which are still as hard to do on the PS3 since the game keeps loading and skips frames when the action is becoming intense.
I loved playing through this episode, and Tales from the Borderlands is slowly becoming my favorite game of 2015! I CAN'T WAIT to play the next episode!
[review pros="Excellent cast and voice acting
Excellent gameplay" cons="Loading times that leads to hard quicktime events" score=92]
—————————————
Cost: $4.99 (Episode), $19.99 (Season – 5 episodes)
PSN Game Size: 900MB
Interested in Tales from the Borderlands? If so, why not support us and buy it from our Amazon Store?

Disclaimer

This review is based on a digital copy provided by Telltale Games.