No Comments
[PS4 Review] The Walking Dead: Michonne Episode 1 - In Too Deep
The Walking Dead: Michonne is a new episodic series from Telltale which that allows us to take a look at Michonne. Instead of the "Five episodes per Season" format Telltale usually delivers, this time we are getting a miniseries containing only three episodes.
This review will be kept as spoiler-free as possible for everyone to enjoy it!
'The Walking Dead: Michonne – A Telltale Miniseries' stars the iconic, blade-wielding character from Robert Kirkman's best-selling comic books, portrayed in-game by award-winning actress Samira Wiley (Orange is the New Black). Haunted by her past, and coping with unimaginable loss and regret, the story explores Michonne across a three episode miniseries event. Players will dive into the mind of Michonne to discover what took her away from Rick, Carl, and the rest of her trusted group… and what brought her back.

In this premiere episode, Michonne joins Pete and his crew on the sailing ship The Companion as they cruise the coast for survivors and supplies. When a desperate signal for help draws them to a scene of horrific massacre, Michonne and the crew are lead further to the floating survivors' colony of Monroe, which may just be harboring the person responsible for the carnage.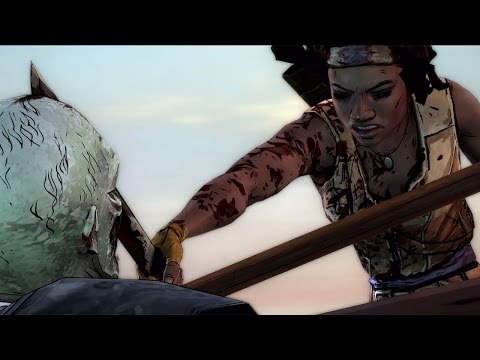 Enter your date of birth to access this video.
The Walking Dead: Michonne – Episode 1 Trailer
Right at the start of this new episodic series we see a little of Michonne's past events. We are then quickly introduced to the new quicktime event format, and I honestly like how the gameplay has been upgraded since their last game (which is Minecraft: Story Mode)!
After those scenes, we get to see the new opening sequence, and I thought it was VERY impressive for a game release, and the theme stood in my head way after it had finished playing!
Michonne is with her friends on a boat. The boat suddenly stops, and they have to figure out what is wrong and how to get through this. This is where their mission will begin, and I'll let you discover if everything goes according to plan… or not!
About the game presentation, I thought that the facial expressions were greatly improved from Tales from the Borderlands, which was great to see. The Quicktime events were also a blast without being too hard or unfair, and the soundtrack was also very good!
I'd like to add a special note about the stellar voice acting talent present in this miniseries. The main character Michonne is a solid voice acting performance by Samira Wiley, but for me, Randall (voiced by Derek Phillips) stole the show! This game has great voice acting quality!
Michonne's character is strong, and her difficult past is teased a few times in the episode, meaning there are surprises coming for us in the next episodes. I can't wait to see how this story will unfold!
[review pros="Stellar voice acting performance
New gameplay elements
Great presentation" cons="None" score=92]
—————————————
Cost: $14.99 (Season – 3 episodes)
PSN Game Size: 1.6GB
Disclaimer

This review is based on a digital copy of The Walking Dead: Michonne provided by Telltale Games.