No Comments
[PS4 Review] The Walking Dead: Michonne Episode 2 - Give No Shelter
Give No Shelter is the second episode of The Walking Dead: Michonne, the new episodic mini-series from Telltale Games that will give us three episodes following the Michonne character. Before diving into this one, you can read my review for Episode 1 right here.
This review will be kept as spoiler-free as possible for everyone to enjoy it!
'The Walking Dead: Michonne – A Telltale Miniseries' stars the iconic, blade-wielding character from Robert Kirkman's best-selling comic books, portrayed in-game by award-winning actress Samira Wiley (Orange is the New Black). Haunted by her past, and coping with unimaginable loss and regret, the story explores Michonne across a three-episode miniseries event. Players will dive into the mind of Michonne to discover what took her away from Rick, Carl, and the rest of her trusted group… and what brought her back.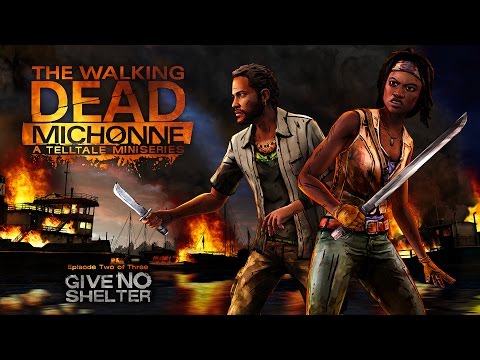 Enter your date of birth to access this video.
The Walking Dead: Michonne – Episode 2 Trailer
This episode starts exactly where the previous ended, as the crew lays captive by another faction. As they escape, they realize that the route they selected is not as easy as they thought. They'll eventually reach somewhere they think is safe… bus in this new world, is any place really safe? Well, you'll have to play the game to see how the story goes!
Like most of the recent Telltale Games releases, this one is very much an action-packed! Even though you'll be hacking zombies through this episode, it somehow felt as if it was a little lighter on content when compared to the first episode. I also think it was a little shorter than the usual Telltale Games episode. Since we're on a series of only three episodes, this interstitial episode prepares the terrain for the grand finale!
Michonne's character is particularly strong, but we get to discover her past as the story unfolds. Since this episode felt a little shorter than the previous one I can only hope that it was in preparation for a longer episode with the finale to this sub-story in The Walking Dead series!
[review pros="Particularly strong voice acting performance
Solid gameplay elements
Great presentation" cons="Felt shorter than the previous episode" score=85]
—————————————
Cost: $14.99 (Season – 3 episodes)
PSN Game Size: 1.6GB
Disclaimer

This review is based on a digital copy of The Walking Dead: Michonne provided by Telltale Games.