No Comments
[Beyond PlayStation] CHOP Review
CHOP is a 2D multiplayer battle release on Nintendo Switch from QubicGames. Learn more about this gory experience in our CHOP review!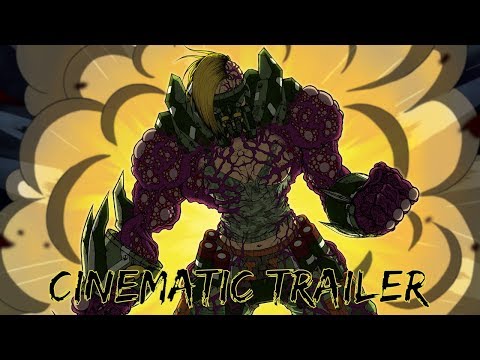 Enter your date of birth to access this video.
CHOP is a fast-paced fighting game that can be played on your own with some AI bots, as well as with others thanks to its online multiplayer modes. If you want to take the fight online, then you're going to need to have an active Nintendo Online subscription. But even if you're not into online multiplayer gaming, the offline battles and taking on the computer-controlled bots will keep you entertained in this fast-paced arcade-style fighting experience.
CHOP has a very comic book graphical style, including comic book boxes with text and all – text of a good size that can be easily read, unlike several releases I've reviewed on Nintendo Switch and PlayStation 4. As you play this one, you're going to start to notice some of its influences from the gaming universe. You will, for example, recognize some Nidhogg and its sequel, a very fun pair of games that are also of a 2D battle nature – you can check EdEN's review for the sequel right here.
Depending on a match's setup and the skill levels of the players, matches can be quick and to the point or last for several minutes. You can also challenge other players to 1 vs. 1 battles if you want to. The most popular option is, of course, going to be the all-out four player multiplayer sessions where everyone will be trying to become the victor. While it's accessible to play and something that all players – who can play an M rated game – can enjoy, CHOP definitely has additional layers for hardcore gamers to dive into a fun experience.
The goal for CHOP is not to have a high kill count. When you manage to kill someone a portal of some kind will open up, and you must escape through it, but if one of the players kills you, then that portal will shut down. To open it again, you'll have to kill another player to find a new path to that exit. It's also worth noting that while you are in a portal waiting to exit of the arena you can still be killed, so you'll need to always be on high alert if you want to survive and win the match.
As you can probably tell from the game's name, you are going to be chopping up a lot of foes, slicing them with your weapons, impaling them, slicing hard to kill as many opponents as you can to open up the portal you need to exit the arena. There are different abilities to consider during a battle, such as telekinesis which allows you to use your mind to pick up weapons and kill your opponents. There is also teleport which allows your character to quickly move around the area, sneaking up behind them.
CHOP is a 2D game that will appeal to hardcore fans of the fighting genre. It offers fast-paced battles with an interesting gameplay twist. I really like its graphical art style and the overall presentation of this one. The game is available right now for Nintendo Switch for a budget $9.99.
Disclaimer
This CHOP review is based on a Nintendo Switch copy provided by QubicGames.
Review Overview
Fun fast-paced arcade-style fighting game
7