No Comments
[Nintendo Switch] Gal*Gun: Double Peace Review
Rail-shooter Gal*Gun: Double Peace from PQube and Inti Creates is ready to go on Nintendo Switch. Learn more about it in our Gal*Gun: Double Peace review!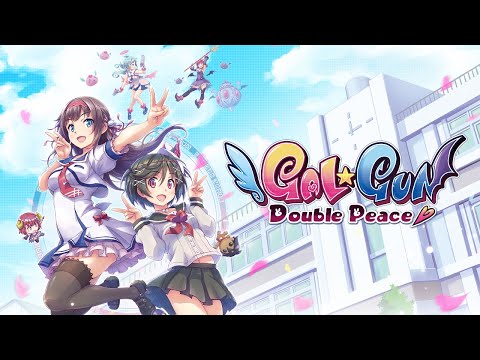 Enter your date of birth to access this video.
Rail-shooter Gal*Gun: Double Peace from PQube and Inti Creates is ready to go on Nintendo Switch. This is a port of the 2016 version that was originally released on PlayStation 4 and PlayStation Vita. For those of you who are new to the series, you'll be using a special magical gun to shoot at girls who are instantly attracted to you the moment they walk into the screen. Think The House of the Dead or Silent Scope, but you're dealing with school girls who are being affected by a very particular situation.
You play as one Houdai, a student who has been shot by cupid's arrows and has instantly turned into the most irresistible guy in the whole school! Because of this, he has to use a magical pheromone gun to shoot at the girls that will pop up and rush towards him so that he can fend them off long enough to find his one true love. As you can probably guess by now – and after checking out the game's trailer at the top – yes, this is a game that does indeed feature some fan service, hence it's Rated M for Mature rating.
Once you select between playing in the Beginner or Expert difficulty setting, you'll have to select the personality for the version of Houdai you'll be playing as. There are four options available from the start, with four more that can be unlocked based on your performance during a run. You can select between Bookworm, Jock, Fashionista, and straight-up Pervert. Each one will affect the Houdai's stats, changing the values for Intelligence, Athleticism, Style, and Lewdness. These stats will play into how you'll work on getting one of the endings the game has to offer.
The game will have you automatically running around each location you visit as you move the reticle on the screen to shoot at the many, many girls that want to hug you to death. You'll move the aiming reticle with the left analog stick, shooting with the Y button. You can slow down the speed at which the reticle moves by pressing the L button and can zoom in with the R button. To activate Doki-Doki Mode, press the X button. What this does is allow you to use the ZR button to touch and rub girls – which is definitely not going to be for everyone – so that you can use it as a special attack that, when executed correctly, will affect all girls on the screen. Oh, and there's also a Panic button titled "Mom Walked In," which is assigned to the – button.
Each of the girls you'll have to fend off is going to have a weakness you can exploit with the pheromone gun so that you can defeat them at a faster pace. This will be important since there will be times when you can easily feel overwhelmed due to how many girls show up on the screen. When you move the reticule over a girl's head, chest, hips, and legs, you'll notice a reaction from the reticule, which will be your cue to unleash the power of the pheromone gun to deal extra damage.
As you go through each level, your performance will be graded, and you'll get to see your final score and a one to five stars rating for each category. You'll also receive some angel feathers, as well as bonus angel feathers if you complete some bonus objectives in that stage. Angel feathers can be used at the school's store to buy energy drinks to increase your HP, attack power, and the damage for your charged shots. You can also purchase new camera angles for the Doki Doki segments or items to protect you from girls shouting, grabbing, or kicking you.
Gal*Gun: Double Peace on Nintendo Switch includes the base game as well as all of the DLC that was previously released for the PlayStation 4 and the PlayStation Vita versions, available right away. This means that you'll have over 20 costume sets for the girls at school –Ripped Uniform, Cunning Kunoichi, Wedding Dress, Festival Time, Bunny Kigurumi, Courageous Hero, Blast From the Past, Summer Vacation, Bear Kigurumi, and more. The game is also fully voice acted in Japanese with English subtitles.
If you enjoyed Gal*Gun Returns on Nintendo Switch, then you'll enjoy your time with Gal*Gun: Double Peace on Nintendo's console. It's a Rated M for Mature game due to the fan service during the gameplay and the cutscenes, but it's still a fun on-rails shooter you can play on Story Mode and then do it all over again in Score Attack Mode, as you try to boost your overall score based on your accuracy, damage, and time. Gal*Gun Returns is out on Nintendo Switch with a $39.99 price.
Disclaimer
This Gal*Gun: Double Peace review is based on a Nintendo Switch copy provided by PQube.
Review Overview
On rails shooter with a dose of fan service
7.5