No Comments
[PlayStation 5] Ravenous Devils Review
Ravenous Devils from Troglobytes Games, Hound Picked Games, and Bad Vices Games is a horror cooking simulator targeted at a mature audience. Check our Ravenous Devils review!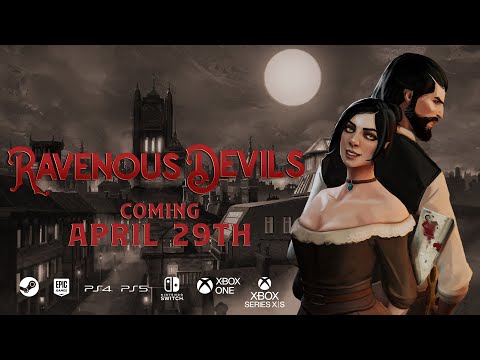 Enter your date of birth to access this video.
Ravenous Devils is a horror cooking simulator where you manage an evil family business. Improve your shops buying new tools and serve your customers.
Ravenous Devils from Troglobytes Games, Hound Picked Games, and Bad Vices Games is a horror cooking simulator targeted at a mature audience. Hildred and her husband Percival have just bought a new huge house in a village in the late 19th century. They decide that the first floor will be a restaurant managed by Hildred, and the second floor will be Percival's tailor shop. They do, however, have a dark secret. Since the price of meat is out of their range, they decide to murder some of their customers and use those unfortunate souls for the meat that will be served to their customers. While he's there, Percival will also take their clothes, rearrange and re-sell them at a premium price.
As you can already imagine, this game is very violent, which is why it's aimed at mature audiences. For this reason, there is a very appropriate violence warning as the game begins. For this reason and the whole topic of this game, that means that Ravenous Devils won't be for everyone. The game begins right away, as you have to take care of a customer. After sending it through the 2nd-floor trapdoor and into the basement's kitchen, you'll have to make some minced meat out of it. Mildred will take the body and throw it into the meat grinder so that they can use that meat for cooking some delicious pies.
Getting meat is the first half of the experience as you'll then have to use said meat pieces (you can obtain either ground meat, sausages, or steak from the raw material), then mix it using your handy recipe book. Once you have all the ingredients laid out on a plate, put it in the oven, and after a few seconds, you'll have a slice of meat that can be delivered to your customers. At first, you'll only have "walk-in" customers that take generic pieces of food, but as you progress in the game, you'll unlock tables that allow for customers to order specific items from your recipe book.
The controls took a little bit to get used to since you'll have to use a point and click approach. You'll move an orange cursor around the screen with the left analog stick and press the X button to interact with characters and objects. One neat thing is that you can sometimes chain events, so you can take control of one character and give it an order, and then manage the other character while the previous one is still going through the animations for the action you ordered them to perform. Once you get the hang of things, you'll make the most of each in-game day.
Speaking of the actions, the basic ones are processing clothes and creating meals using the resources on hand. Later, you'll unlock a garden that allows you to grow your own vegetables, thus creating pricier meals. As for Hildred, she'll violently and graphically get rid of all of the former customers that Percival sends her way. After each day, you'll be able to upgrade your kitchen, tailor shop, and garden using the money made during the day from selling clothes and food to customers.
I did run into an issue a few times during my playthrough where one of the characters was doing a random chore when the day ended. If the animation wasn't fully completed by the time a cutscene played, the character would sometimes end up stuck with an item on its hands, unable to do anything else. All that was needed to fix this was to reboot the game, which is not a deal-breaker. On some occasions, if Mildred was processing a former customer into a meat product and the day ended, the raw resource would be lost, and the meat type would not register.
On the presentation side, I liked the way the interior and exterior of the house were presented since they definitely have that 19th-century feel to them, as did the overall atmosphere for the game. The game's new gameplay mechanics are introduced at a steady pace as you upgrade your gear and progress further in the story, so you won't feel overwhelmed. The background music was a bit repetitive, but the musical theme was at least entertaining.
On the trophies side, this game has both a PlayStation 4 and a PlayStation 5 version, although they are not Cross-Buy. At least each version has its own trophy list! Since Ravenous Devils has a Platinum trophy, the good news is that none of the trophies are missable! There are several trophies tied to progressing through the story, and all of the other trophies can be obtained after completing the game since you can go back and take on an endless number of days as you grind through some of the trophies you might be missing for, say, processing 20 of each meat type, buying every upgrade, and taking care of a special plant in your garden.
Ravenous Devils is definitively a different type of game on PlayStation. You'll have to violently take care of some of your customers in order to obtain the raw materials needed for making new clothes and cooking some delicious dishes. The game's gameplay mechanics grew on me, and I got to enjoy my time with Ravenous Devils. The game is available at a budget price of $4.99, and you can get a new Platinum trophy in the process. There's also a separate PS4 version available at $4.99 with another Platinum trophy for your collection.
If you're looking for a specific trophy, you can look up this Ravenous Devils Trophy Guide to help you achieve your new Platinum trophy.
Disclaimer
This Ravenous Devils review is based on a PlayStation 5 copy provided by Troglobytes Games.
Review Overview
Great - and very violent - horror cooking simulator
8