No Comments
[PlayStation 5] The Last Spell Review
The Last Spell from The Arcade Crew and Ishtar Games is a new roguelite tactical RPG you can sink into. Learn more in our The Last Spell review!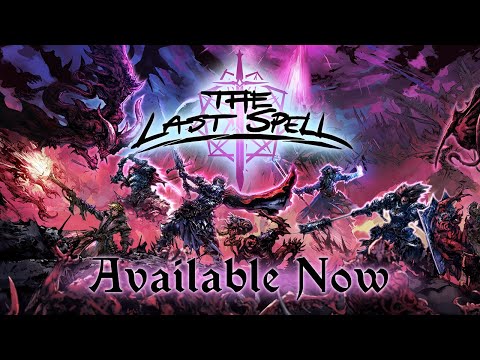 Enter your date of birth to access this video.
The Last Spell from The Arcade Crew and Ishtar Games is a new roguelite tactical RPG you can sink into. We are in the last days of March. The year is flying far too fast for my liking, and Spring is already here, which means it's the perfect time for gaming. Today I have The Last Spell for you, which is part tower defense and part tactical RPG. Due to its roguelite nature, you're going to be spending many, many hours playing this one as you learn from your mistakes and fine-tune your subsequent runs as you try to rid each area of all evil.
The game begins with a band of mages unleashing swarms upon swarms of demons that reduce the world to rubble. Humanity survived in tiny little settlements. Each night they are defended by heroes. The game's loop is presented in two parts: the day and the night. The day part is where you spend your hard-earned gold and any resources you may have on building structures, healing up your heroes, and improving your defenses for the town. When nighttime comes, evil comes out to play! A dark fog will envelop your town, and the evil creatures will surround the magic circle that you're trying to protect.
The combat phase is of a turn-based nature, and you get multiple turns per phase. You can move on a grid-based map and unleash your spells and attack enemies to try and deal enough damage to defeat them before they overcome your forces. The combat phase will end when you deal the final blow to that wave of enemies or when they destroy your heroes. Trial and error is key since you certainly won't be able to complete a full successful run during your first try, as you're limited by the starting resources and available heroes and skills.
As you progress, you can unlock more options to defend each magic circle, but the rate of progress is really slow. You may end up getting one or maybe two unlocks per run, depending on your overall performance. The Last Spell is a grindy game and a very tedious one at that. At times, I felt like I wasn't getting anywhere. On the plus side, you can customize your party however you like, and that freedom of creativity is always a plus. You can build up each hero according to the weapons and spells they possess. Since the game is a roguelite, there is no telling what you get, and with everything being randomized, you might get different items in shops, different hero traits, different enemy patterns, the whole nine yards. Gotta love that RNG, right?
If you're a trophy hunter, the good news is that this one has a full trophy list with a Platinum trophy. The bad news is that it's not going to be an easy one to take on. The list includes 46 Bronze trophies, 8 Silver trophies, and a lone Gold trophy. The many objectives to complete include unlocking all weapon types, building your first inn, building all building types at least one, getting 6 heroes in your team, defeating 6666 enemies, stunning 50 enemies in a single night, using potions 100 times, starting 20 runs, build 60 reinforced walls in a single run, sell an epic item, have one hero use a potion on another hero, have a hero hit another hero, or fight a boss for a second time, to name some examples.
The Last Spell is certainly a roguelite. Upon death, you lose it all, but anything you unlock in subsequent playthroughs will be available for purchase. Progressing toward the game's final story arc will require hundreds of deaths, which means that the potential for frustration is high. This means it's one that only roguelike fans are going to enjoy since it's a very tough and challenging experience. The Last Spell is available as a Cross-Buy title, so your $24.99 purchase will give you access to the PlayStation 4 and the PlayStation 5 copies of the game at no extra cost.
Disclaimer
This The Last Spell review is based on a PlayStation 5 copy provided by The Arcade Crew.
Review Overview
A challenging tactical RPG roguelite in which you aim to save the world
7